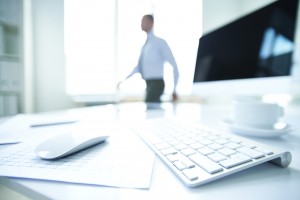 If you have your own bookkeeper you may require other aspects such as producing management accounts, business strategy discussions, improving sales and keeping costs under control. It's rare these days for a business with under £5m turnover to have a full time Financial Director, as it is hard to keep them fully occupied 5 days a week. So, our solution is to provide the hours you need each month to get best value for your money. All the skills of a Financial Director, without the big salary cost.
We can also outsource your accounts department for you. This means no more problems with accounts staff sickness, holiday cover, recruitment fees, training, investment in IT and software and a host of other benefits for you. Our efficient staff can also help to improve your systems and disaster recovery strategy, using secure servers and organised backups.
There are numerous other services we offer from payroll to preparing your year end final accounts. Whilst we're not a firm of accountants, we are trying to ensure that you get value for money for your accounting costs. We know that you're not interested in what happens in the accounts department, you just want the job done right, with good management information for the right cost. Our service contract guarantees all of this, and will help keep the bank manager happy as well.
Contact us for more information, or to make an appointment for a free no obligation chat. If we can either save you money or do a better job for the same price, you can only help your business Call Graham on 0845-094-2916 to organise an appointment
The services and procedures we have in place here at Tectanet enable us to cater our service for each individual business. Whether it is different in activity or size, we supply the various services around what your business requirements are.
Take a look below for a list of the services and if you would like a quote with regards to the catered services for your business, please use the contact us section of the website.
Accountancy Services
Book-keeping
Our book-keeping system means that we set-up parameters whereby all you need to do is forward and business documentation to us so we are able to file, update or action and you need not worry about it any further. You can e-mail it to our secure cloud system which acts as a drop box and we will action immediately.
Management accounts and Vat Returns
We are able to give you an updated position of your accounts on a monthly basis dependent upon the information received and formatted to provide useful and insightful information on the accountancy aspects of your business. This also includes VAT return computation and submission.
Monthly payroll and RTI submissions
A fully comprehensive and compliant payroll service for you and your employees, which includes calculation of taxes, net pay to pay employees, payslips and real time submission with HMRC.
Year end accounts and submission
Preparation and submission of year end accounts including analysis and commentary on figures to help effectively plan for the upcoming financial year.
Year end corporation tax and submission of CT600
Preparation and submission of year end corporation tax return.
Secretarial service
A full secretarial service which includes registered office at our address, handling all HMRC and Companies House correspondence first hand and annual return.
Company Formation and Set-up
Set-up your company with Companies House and register for all taxes and online set-up as is now a mandatory requirement for most submissions.
Business Support
A combination of the above service elements mean we can offer continued business support to help you in everything that is financial with your business. We are also able to recommend the best contacts and assistance in other areas to help with the company's finances.
Personal Tax
The service offers a constant review of personal income and tax affairs in correlation with your business, in order to plan effectively and ensure the most efficient recommendations are made.