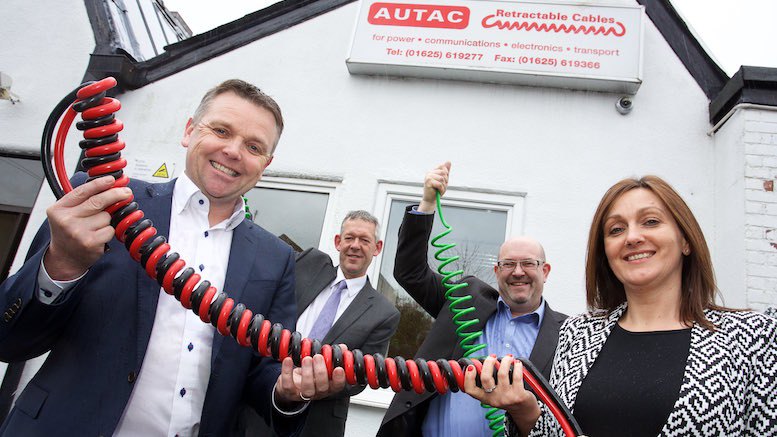 A Stockport accountancy firm advised in the sale of Macclesfield retractable coiled cable manufacturer Autac Products Limited.
The firm, based in Macclesfield, has been bought by its former finance manager Sallie Lowe, who has worked for the firm for over 30 years.
She now owns the business with her husband David following the retirement of the firm's previous owners.
The management buy-in deal was supported with funding from Royal Bank of Scotland and with advice from Graham Saul, who owns Tectanet Systems Limited.
Graham Saul, who owns Tectanet Systems Limited and Cloud 9 Hosts in Hazel Grove, said: "Naturally we were very pleased when Sallie and David approached us to assist them in the purchase of the company.
"We were able to advise on the structure and funding of the purchase and now Sallie and David own a successful manufacturing business, exporting 50 per cent of its products.
"It proves again that banks are still lending to businesses that present themselves in the right way, and we're happy to help new clients do this."
Located at Bollin Cable Works on London Road, Macclesfield, Autac Products is a UK designer and manufacturer of high-quality electrical cables, coils, plugs and retractable coiled cable assemblies.
Originally established in 1964, the company supplies businesses throughout the world in the electrical and commercial vehicle, aviation, defence, communication, agricultural, marine, oil, chemical and medical distribution industries.
Sallie said: "I am pleased that our acquisition has been successful.
"I have worked for Autac Products for over 30 years and am proud that I have been involved in shaping it into the company it is today.
"To own it is a dream come true and whilst it is very much business as usual, we are looking forward to focusing on new opportunities for growth.
Royal Bank of Scotland has supported the MBI with a loan and working capital facility.
Andy Adshead, senior relationship manager at Royal Bank of Scotland, said: "I am pleased that we have been able to support Sallie and David with their acquisition of Autac Products Limited.
"Having worked in the company for many years, Sallie is ideally placed to take over the reins and continue its development.
"We wish them all the best with the takeover and look forward to continuing to work alongside the duo in the future."